5.3.2002
NJ Rep, Key West
William Martin, Jay Ranelli
Joe Pintauro
Anthony Newfield, Roy Scheider, Mercedes Ruell, Dennis Parlato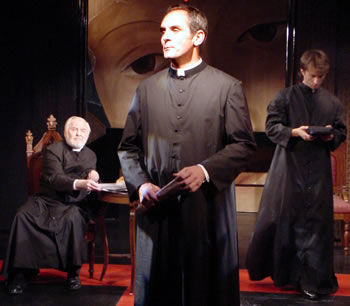 The story revolves around the Rev. Robert Sheridan, a Catholic priest played with charisma by Anthony Newfield. Sheridan has built a successful ministry around rescuing runaways — or "dead boys," homeless teens that come to his shelter for help.
He is accused of sexually molesting one of those boys, Will Draper. Newcomer Cary Woodworth brings real enthusiastic zeal to the role of Draper, a street kid who tells his story to a local reporter.
Draper also tells his story to Sheridan's boss, Cardinal Hamilton, played with sardonic flair by Leonard Auclair. He is the embodiment of the spiritual leader with secular savvy. The Cardinal's solution? Bribe the boy to recant his story.
"The Dead Boy" is an examination not so much of pedophilia as of the overall religious culture of the Roman Catholic Church — a culture whose sexuality, according to Pintauro, is "fundamentally flawed."
- Marlene Canty, Asbury Park Press